Capital One offers personal, business and customized products and services, including business advice, everyday banking, borrowing options, and investment instruments and services such as bonds, wealth and asset management, and others. Customers are offered a selection of standard and specialty credit cards and facilities.
Capital One Credit Card
Capital One offers popular cards that allow customers to earn rewards points, get cash back, and build credit. Capital One credit cards come in different varieties, including business, travel, secured, and competitive rate cards. Customers can choose a product for their credit level, i.e. poor, average, or excellent. Some products are offered to customers who seek to rebuild or build credit while others are available to borrowers with high income and stellar credit. Customers with excellent credit are offered plenty of choice, including VentureOne Rewards, Quicksilver Rewards, Venture Rewards, and other cards. Some of these cards go with a zero annual fee, one-time bonuses, and cash back. They also offer beneficial tools and features such as travel upgrades, credit tracker, roadside assistance, and others. Additional benefits include generous shopping discounts, exclusive access to events such as premier golf outings and concerts, and savings at spas, resorts, and luxury hotels. Extended graceful periods are also offered, and some cards go with an interest-free period of 25 days. In comparison, there are cards with a grace period of just 15 days. Rewards cards are also offered to business customers, along with free employee cards, emergency assistance, and other benefits. Customers are free to redeem their points for merchandise, cash, airfare and travel, gift certificates, and more. There is no limit or cap on the amount of points to be earned. Miles never expire and can be used on any airline. With Capital One credit card Canada based and international airlines offer discounts on airfare and other travel benefits. Venture Rewards, for example, is offered to customers with excellent credit and features a generous welcome bonus of 40,000 miles.
Capital One also offers the option to get pre-qualified for a credit card, based on information such as your credit level and benefits sought. For example, if you are looking for a business credit card and have average credit, you may prequalify for Spark Classic for Business. Other business cards such as Spark Miles for Business and Spark Cash for Business require excellent credit to get approved. Just enter information such as your credit level, benefits, zip code, and the last digits of your SIN to check whether you qualify.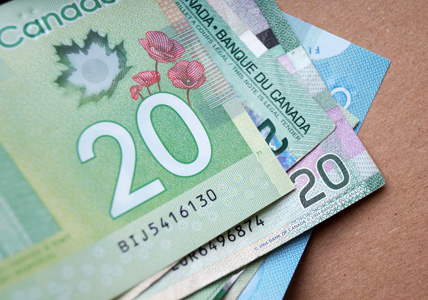 Capital One Secured Credit Card
Capital One also offers products for customers with poor and fair credit. There are different options for clients with fair credit, including Spark Classic for Business, Journey Student Rewards, Platinum, Classic Platinum, and others. Customers with poor credit have limited choice. In fact, they qualify for one card offered by Capital One MasterCard that goes with three deposit options. The deposit ranges from $49 to $200 and is refundable. The main benefit is that payments are reported regularly to the credit bureaus. A free credit tracker tool is offered to help customers monitor their spending, payments, and credit use so that they learn how to use credit responsibly. Another benefit is the fact that customers are allowed to make partial payments provided that they cover the minimum deposit.
Capital One offers credit cards for bad credit to customers who agree to make a security deposit and make regular payments to improve their credit rating.
There are other cards by Capital One, including student cards that allow customers to build credit. Journey Student Rewards, for instance, is offered to students who have limited exposure to credit and goes with no annual fee. This card is also available to clients with average credit. With regular payments over a period of 5 months, customers can apply for a higher credit limit. The card also offers cash back on gas, food, textbooks, and other purchases. Rewards can be redeemed in different ways, for example, gift cards, account credit, and checks. Customers can redeem their bonus points in three ways, automatically, online, and by phone. They are offered brand-name gift cards, cash back, and cashback bonuses for online bill payment.